Home
Alberta Ski Jumping & Nordic Combined
Welcome to the ASJNC website.  This website will provide you with up-to-date information about our programs, competitions, events, standings and much more.
Alberta Ski Jumping and Nordic Combined Association was established as a non-profit organization in 1991.  Our main purpose is to promote, encourage and support the competitive and recreational ski jumping and nordic combined programs in Alberta.
We are a unique club, primarily due to the fact that we are the only Ski Jumping and Nordic Combined provincial club in Canada.
Ski Jumping
The first known ski jumper was a Norwegian lieutenant named Olaf Rye, who, in 1809, launched himself 9.5 metres in the air before an audience of other soldiers. By 1862, ski jumpers like Sondre Norheim were tackling much larger jumps travelling longer distances and competing in official ski jumping contests.
Men's ski jumping has been part of the Olympic Winter Games since the first Games in Chamonix, in 1924. The large hill competition was added for the Innsbruck 1964 Winter Games.
Ski Jumping is a sport in which an athlete skis down a long ramp, referred to as the in-run, and launches into the air at speeds of up to 95 kilometres per hour, attempting to go as far as possible.  In addition to the length that skiers jump, judges give points for style.  Ski jumping is predominantly a winter sport, performed on snow, and is part of the Winter Olympic Games, but can also be performed in summer on artificial surfaces (porcelain or frost rail track on the in-run, plastic on the landing hill).
Nordic Combined
Nordic Combined is a winter sport in which athletes compete in ski jumping and cross-country skiing.  This sport demands endurance and strength for cross-country skiing, and requires physical strength and technical control for ski jumping.
The jumping portion occurs first followed by a free technique cross-country race. The break between the jumping and the cross-country race can be as little as 35 minutes, or as long as a few hours.  Known as a "Gundersen" or pursuit start, the jumping results generate the starting seed for the cross-country race that follows, with the second and remaining athletes beginning seconds or even minutes after the best jumper. Using pack-racing strategies, the athletes cluster into "trains" that chase down other athlete trains. The winner of the Nordic combined event is the first athlete across the cross-country finish line.
---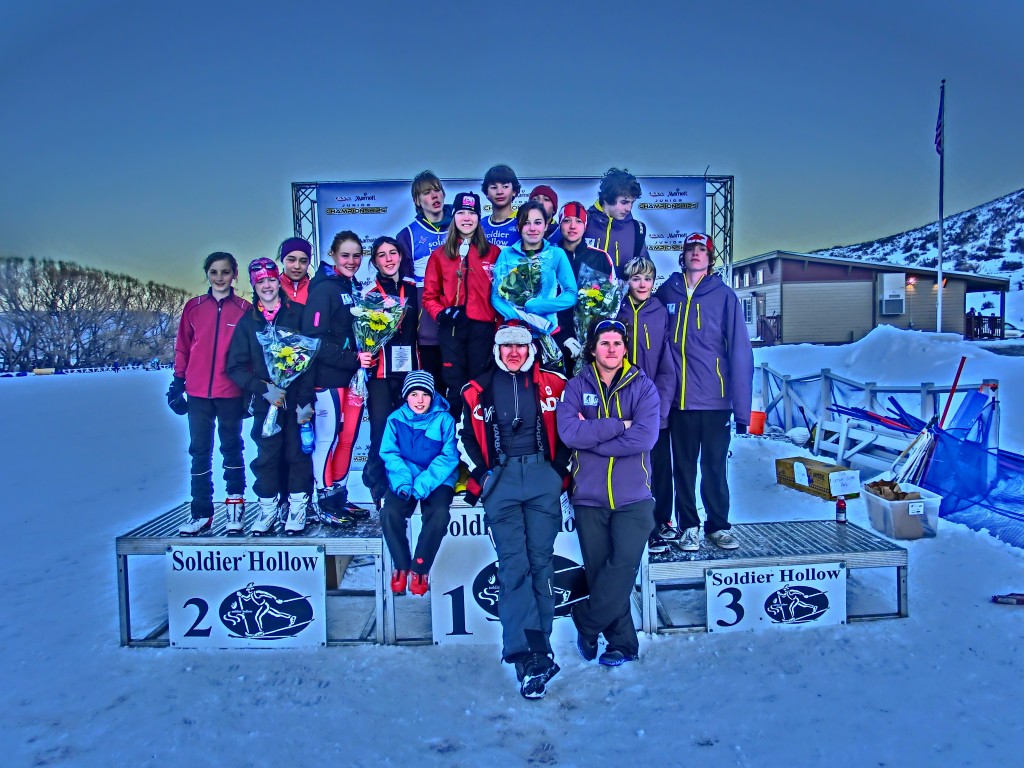 Team At The US Nationals – Park City, Utah
---
 ASJNC Board of Directors
Barb Elms – Chair
Jay Paylor – Past Chair
Mike Bodnarchuk – Vice Chair
Alan Soukup – Treasurer
Wendy Mah – Secretary
Julie Chafer – Parent Liaison
Greg Enno – Director
Gary Fairgrieve-Park – Director
Jeremy Hamming – Director
Kathy Krug – Director
Shannon Lalonde – Director & Privacy Officer
Rod Strate – Ex Officio, Altius
ASJNC Staff
Ted Bafia – Head Coach
Barb Elms – Administration Assistant