Alberta Ski Jumping and Nordic Combined Association is a non-profit organization in started in 1991. The organization promotes, encourages and supports the competitive and recreational ski jumping and nordic combined programs in Alberta.
We are a unique club, primarily due to the fact that we are the only Ski Jumping and Nordic Combined Provincial club in Canada.
Learn to Ski Jump at Canmore and Camrose Alberta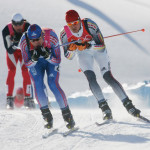 Nordic Combined is a winter sport in which athletes compete in ski jumping and cross-country skiing. This sport demands endurance and strength for cross-country skiing, and requires physical strength and technical control for ski jumping.
The jumping portion occurs first followed by a free technique cross-country race. The break between the jumping and the cross-country race can be as little as 35 minutes, or as long as a few hours. Known as a "Gundersen" or pursuit start, the jumping results generate the starting seed for the cross-country race that follows, with the second and remaining athletes beginning seconds or even minutes after the best jumper. Using pack-racing strategies, the athletes cluster into "trains" that chase down other athlete trains. The winner of the Nordic combined event is the first athlete across the cross-country finish line.
Empty tab. Edit page to add content here.